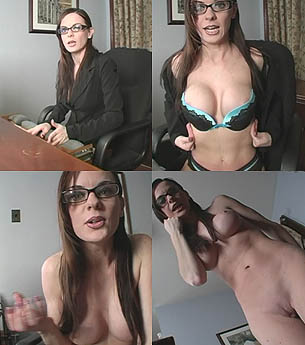 You are very late for your meeting with your boss. She is disappointed in your effort since joining the company and she knows that you have been following her.

You wanted to jerk off to her, so now is your chance. Maybe it is her eye glasses that get you so hard. When you take your dick out of your pants, she is shocked by how small you are. Just to move you along, she shows you her titties. Your little peter is not doing anything for her, so you'd better get it hard quickly.

Wow, she is wearing legwarmers and high heels and your cock springs to life. This pleases her and she hopes that you rubbing one out might get you back on track at work.

Though she is not interested in you, that is okay. You just want something pretty to look at while you stroke away! Her ass is lovely and you are given the chance to kiss your boss' ass.

Finally she removes her panties and you are closer than ever. You are now ordered to your knees (where you know you belong) and you are commanded to put your nose in her pussy. You know that when you are finally permitted to spew your jizz it will be the best work experience ever.
Starring: Beladona Blue
Company: ErosArts, Inc.
Running Time: 7 mins

Watch this clip: Click Here
Buy this clip: Click Here
Pay Per View: Click Here